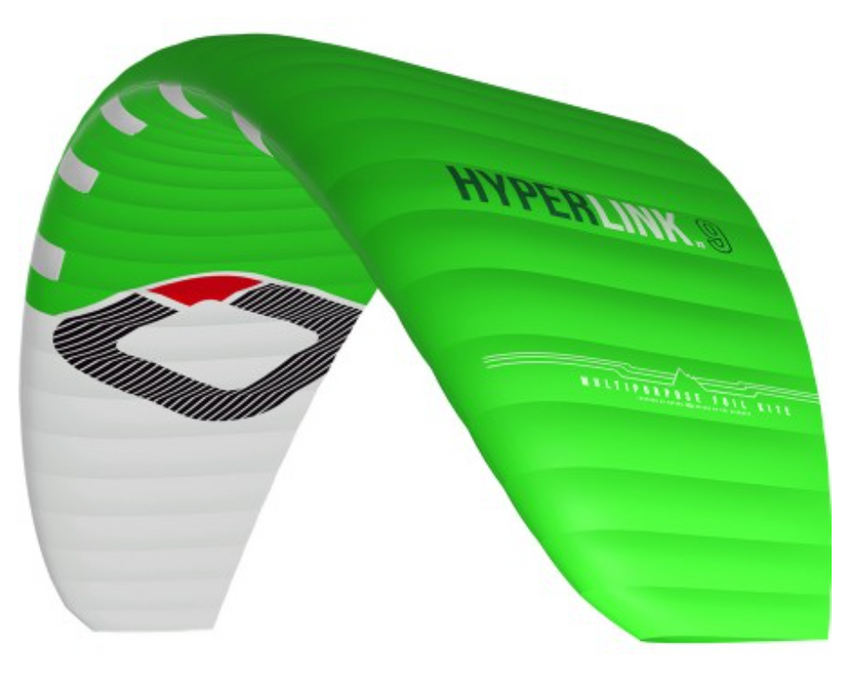 Ozone Hyperlink V3
Save

Liquid error (snippets/product-badge line 32): Computation results in '-Infinity'

%
Low in stock!
Ozone Hyperlink V3
The Hyperlink is a true multipurpose foil kite, bridging the gap between inflatables and foils - dynamic and engaging to ride with high performance characteristics. The third version brings a new feeling of performance and covers almost every aspect of Kiting. Free ride, hydrofoil, boost and float, air style or unhooked, backcountry snow missions, you name it and it delivers!
Completely ReDesigned
We have completely re-designed the third version incorporating new technology developed during the design process of our high performance race winning R1 V4 and Chrono V4.
Hyperlink v3 Internal Structure:
• Internal Airfoil Sections
• Internal Diagonal Ribs
• Internal Tension Straps
New Plan-form and Bridle Line Layout
A new plan-form, bridle line layout, internal structure, Transverse Sail Shaping and increased cell count make the Hyperlink V3 more dynamic to fly, sitting further forward in the wind window with increased drive upwind and less physical to ride than the V2. Additionally, the bar pressure has been reduced with the option to increase or decrease by simply adjusting the Brake Line Settings.
Power Generation
These new design features and performance attributes make the Hyperlink V3 feel lighter and more playful in the air. Handling and power generation through turns is where it excels making it a fun kite for active flying when the conditions are light.
The upper wind range also has been massively increased to be comparable with a similar size inflatable kite. The increased handling, lighter bar pressure and power generation through the turns make it the dream snowkite, you can ride all day without fatigue.
High Performance Ultra Light Materials
The Hyperlink V3 features a durable, airtight and lightweight double rip-stop Nylon material for the upper and lower surfaces. The material has a unique formulated coating to help shed water, improving flying characteristics and water re-launch.
Internal Diagonals and Straps
Internal span-wise straps work in unison with optimized diagonal ribs, distributing load from the bridles evenly and effectively. This increases the internal structural balance, while allowing the top and bottom surfaces to maintain the designed profile without being distorted from indirect tension or loads.
Transverse Sail Shaping
The Leading Edge now features Transverse Sail Shaping creating a cleaner surface on the most important area of the aerofoil. The result is less turbulent airflow and longer skin adhesion, which positively effects the lift to drag ratio increasing overall performance.
Brake Line Settings
Three settings allow you to fine tune kite feedback and bar pressure to your liking. It is quick and easy to change with no extra lines to add or remove.
1: Hydro foil
Decreases bar pressure with a longer lifting period perfect for foiling maneouvers.The Hydro Foil setting is the upper knot on the PB1 line.
2: All-round
The ideal balance in performance and feeling for most riders and conditions. The All-round setting is the middle knot on the PB1 line (factory setting).
3: Twin Tip
Increases bar pressure and offers a sharper, more direct feeling perfect for Twin Tip riding. If you prefer a heavier and direct feel this could be the setting for you. The Twin Tip setting is the lower knot on the PB1 line.
Flying Line recommendations
We recommend 23m lines for 45cm and 50cm bar widths (kite sizes 5m, 7m, 9m, 11m) and 25m lines for 55cm bar width (kite size 13m). For Hydro-foiling shorter lines (10m to 21m) are preferred by a wide range of users. You will feel an increased 'connection' to the kite, it will become more responsive and direct. In stronger winds with shorter lines the upwind ability will be enhanced significantly.
4- LINE CLOSED CELL versus 5-LINE OPEN CELL
Watch the how-to video to ensure you understand the correct method to change between 4-Line Closed Cell and 5-Line Open Cell modes.
https://vimeo.com/356472420
4-LINE CLOSED CELL Mode

The Hyperlink comes standard in 4-Line Closed Cell Mode, utilising our Front Line Flag Out Release System. This is recommended for water use – it is a simple and effective flag out when the Quick Release is activated – it works the same way as our 4-line inflatable water kite range.
4 Line Closed Cell Mode is recommended when riding on water.

Inflation is quick and smooth after pre-inflating the kite.

If you are already an inflatable kite rider it will only take you one session to get to know the Hyperlink.

For twin tip riders once the kite is in the air and powered up the similarities to an inflatable kite can be felt.

It has progressive handling, generates smooth consistent power, great upwind performance and jumps well with long hang time and smooth landings.

Ideal for Foil Board riding, the Hyperlink produces more power than an inflatable kite size per size – this means you can use a smaller more maneuverable kite to generate power.

Maneuvers are made easy thanks to the stability and lift produced as the Hyperlink flies through the zenith – a great help when learning to tack and gybe giving you time and float to change board direction.

In light winds the Hyperlink will fly above you unlike inflatable kites that have a tendency to fall out of the sky. This makes getting set up for starting stress free.
5-LINE OPEN CELL Mode

The optional 5-Line Internal Re-Ride Release System Conversion Kit is recommended for snow or land use. The Internal Re-Ride Release System de-powers the kite instantly without tangling, and falls to the ground to re-launch when ready.
5-Line Open Cell Mode is recommended when riding on snow or land.

Similar inflation as in Closed Cell Mode, slightly quicker due to the valves being open.

Snow and land riding are a blast, the easy inflation and Internal Re-Ride Release System means it can be taken anywhere safely.

The Hyperlink combines the perfect balance of handling, pop and float to make the most of terrain and flats.